It is a great pleasure to invite you to attend to the opening of the photographic exhibition:
"Cementiri. Una mirada nocturna"
"Fotografies de llarga exposició al cementiri d'Arenys de Mar"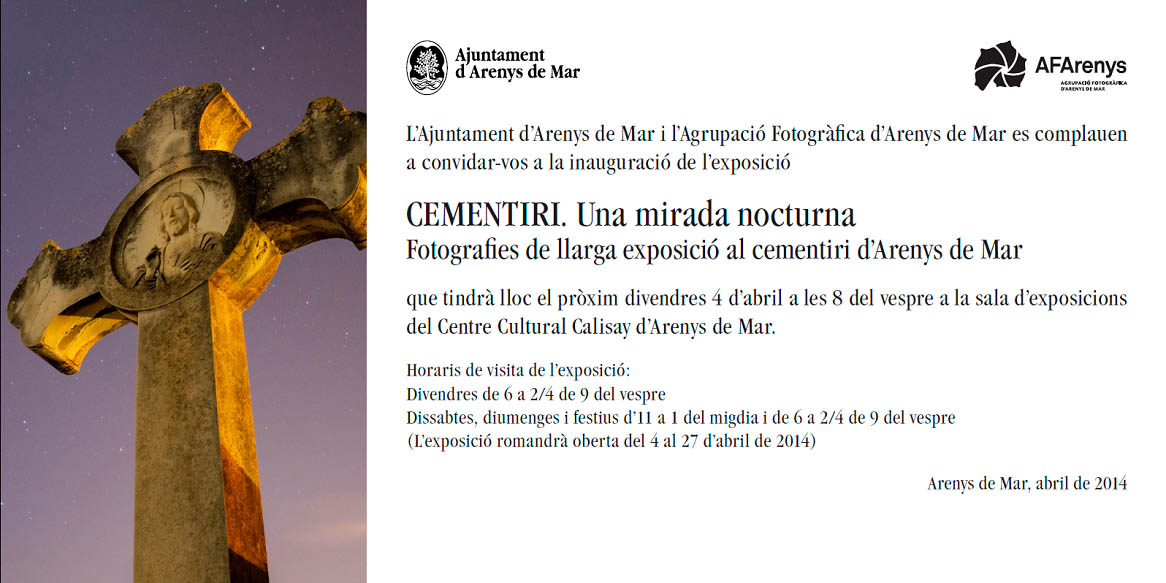 The poet Salvador Espriu introduced the Cementiri de Sinera to the world. Build in a singular location at Mediterranean sea shore over an small hill, the beauty of this place lets the poet to write about it in his work.
The graveyard is also a singular sculptural ensemble with several "Art Nouveau" examples and with deep seagoing roots
The Arenys de Mar council in collaboration with l'Agrupació Fotogràfica d'Arenys de Mar present this exhibition where it will be possible to see a graveyard side that normally it is not available to the visitor: the nocturne one.
Every body is invited!
As a photographer who is living in Arenys I had participated to the collective exhibition with the following three pictures. Shooting this pictures has been an unique experience for me because of the location singularity and the difficulties produced by the absence of light:

This pictures belongs to Album Arenys graveyard